EW Scripps Company
Recently the EW Scripss Company contacted me to do a custom Premiere Pro Training at one of their television stations in Florida. The EW Scripss Company is a well-established company that owns over 30 television broadcast stations as well as several radio stations and newspapers across the United States. They are noticing that traditional means of communication such as newspapers and cable television are in decline. Younger audiences are slowly shifting toward social media, mobile apps, and web streaming services to get their media. This shift in behavior could disrupt the entire business mode for traditional broadcasters such as EW Scripps.
A New Way to Communicate
In an attempt to capture the interest of younger audiences, the EW Scripps Company has created a start-up called Hello SWFL (pronounced "hello swiffle") based out of Fort Meyers, Florida.The Hello SWFL team is a diverse and interesting bunch who come from varied backgrounds. This is great from a story-telling perspective, because it adds depth and authenticity to their stories.
Several key characteristics make Hello SWFL unique and interesting:
They primarily use social media as a way to connect to audiences. Check out their Facebook, Instagram, Twitter and YouTube pages for their latest stories.
Their storytellers actively engage with the community, and are expanding the definition of what is included in "news".
Their storytellers primarily use iPhones to capture their stories.
Premiere Pro Custom Training
One of the challenges that Hello SWFL faced is that many people on their team didn't have solid technical experience with video production and video editing. They are great storytellers, but were not efficient with the editing software. Other storytellers had solid backgrounds in video production and editing, and wanted to learn the more advanced features of Premiere Pro to make them more powerful and efficient.
The director of Hello SWFL contacted me to get a team of 15 storytellers up to speed with a custom Premiere Pro training. We also decided to add After Effects training so that the team could learn to create motion graphics. We decided three days was the ideal duration for the training, organized as follows:
The training was delivered on-site at the Hello SWFL office in Fort Meyers, FL. We organized one of their rooms to comfortably accommodate 15 students and used a large television screen to project the instructor's computer to the class.
The Result
The team at Hello SWFL has become more confident and efficient with Premiere Pro and After Effects, and have discovered new tools and techniques they weren't aware of previously. Several of the team members who had little experience with Premiere Pro were grateful to have the fundamentals broken down in an easy-to-understand format.
Thank you Hello SWFL for inviting me for custom training at your office. It was a lot of fun meeting everyone there!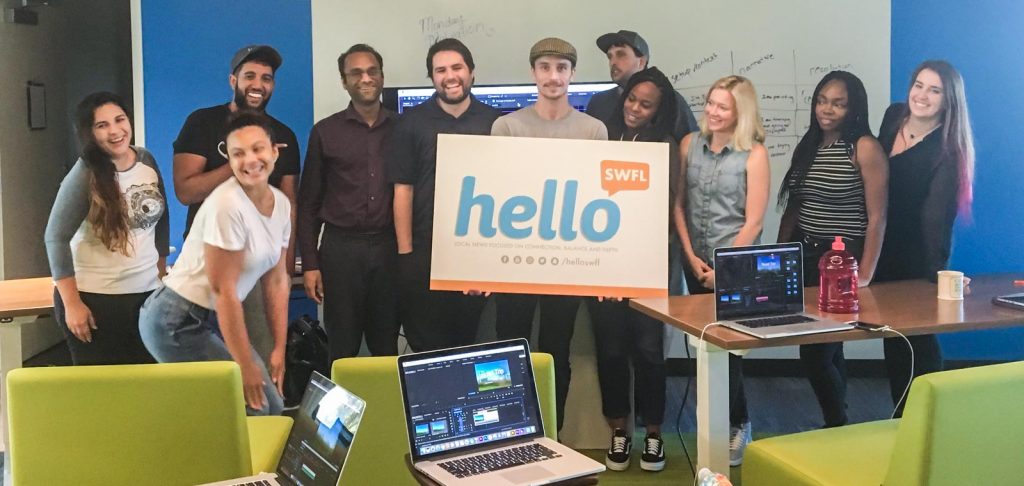 Related Links