Custom On-site Training
Coding is the force behind everything we do on the internet. From Dreamweaver to WordPress to Wix to Squarespace, a fundamental understanding of both HTML and CSS is essential to making your online content stand above the rest.
That's why Web Guru provides an open opportunity to learn these skills in his Web Development Training Classes available to individuals or companies both in Orlando, Florida and nationwide.
In-person training let's you get hand-on with the code, giving you an unprecedented level of interaction that most training resources lack. Web Guru's training also provides expert guidance and post-class support from a professional with over a decade of experience in the online development business.
Training Classes Offered
Along with in-class training, the internet provides a wide variety of additional resources to help you on your coding journey.
Web Development Groups
At it's core, the internet is all about bringing people and communities together. Joining web development groups both online and in-person can give you the opportunity to learn from experienced designers and developers.
Orlando Developers Meetup is the largest web development group in the local area. They are open to all skills levels and interests from professional development to advanced techniques.
Stack Overflow is a helpful online community that gives developers the chance to share their projects and find guidance from other creators.

These groups can often be large and intimidating, especially for newer developers. It's best to develop a basic understanding of code before fully engaging with a community.
Video Tutorials
There are thousands of online videos available from both independent creators and full-fledged training organizations.
The YouTube Channel, Enoch, has only one video that contains over 4 hours of HTML and CSS training content for beginners.
Traversity Media has hundreds of up to date video tutorials for every imaginable web development tool that currently exists, which is both incredible useful and intimidating.
Video tutorials often lack the customized learning environment and hand-on interactivity of full training courses.
Full Online Training Courses
For a more robust learning experience, online training courses are hard to beat.
Code Academy is probably the most famous online course you can take. The site allows brand new members to dive in with carefully planned exercises and practice modules at no initial cost.
Lynda.com is always a dependable training resource for computer skills, particularly when it comes to web development. Some of their courses include:
Online courses are in-depth and interactive but often lack dependable support when something goes wrong. Along with that, they lack a customized environment that suits your specific needs.
Tutorial Books
Last among the list, web development textbooks are a tried-and-true form of learning that's available in both physical print and in e-book formats.
One of the most dependable and thorough book collections is the Noble Desktop series, offering nearly 30 up-to-date publications revolving around web development, mobile app development, JavaScript, and the Adobe Creative Cloud.
HTML and CSS: Design and Build Websites is another widely popular and well-received textbook that teaches the material in a fun and approachable way.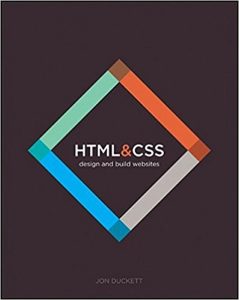 Books let you learn on your own time but also lack truly interactive elements and guided support.
Conclusion
Overall, it's easier than ever to jump into web development, but the best way to start your education is with in-person training. While other resources are helpful in specific ways, none of them have the full educational experience provided by Web Guru. Happy creating!