Custom Onsite Training
Photoshop is one of the most powerful and versatile tools in the Adobe Creative Cloud arsenal. It's a classic editing program suited for both artistic hobbyists and visual media professionals. With nearly 30 years of support, Photoshop is the gold standard for all visual editing programs. Photoshop is used by: graphic designers, web designers, photographers, creative directors, marketing professionals, video editors and many others.
As with many Adobe products, there's a significant amount of complexity inherent in the software, which is why Photoshop training classes can be an essential key to success. With hands-on training, you can jump right into the ins and outs of the program and receive highly-qualified advice in a fully customized class environment that fits your needs.
I currently offer Orlando Photoshop Training both in Florida and throughout the country, transforming groups into highly-skilled Adobe users. Some of the companies I've trained include NASA TV, NBC/Universal, Golf Network, WKMG News 6, and Dr. Phillips Charities.
Photoshop Training Classes Offered
Photoshop User Groups
Joining a group of hobbyists and experts is always a good way to discover creative new ideas and essential tips as well as find a sense of community.
Here in Florida, we have the Orlando Adobe User Group that meets every month at Webster University. They can provide helpful advice on all the Adobe programs as well as general tips for graphics, video, and web design.
Every year, Photoshop World brings its convention to Orlando. You can attend a 3-day long conference full of fun presentations and activities led by industry leaders and top Adobe instructors. Large events like these can be intimidating, but they also give you access to the best professionals in the field.
Photoshop Online Video Courses
The next best thing to personalized instruction is learning through online videos. The highest-quality videos are clear and concise, taking you through each process in a way that is both informative and engaging. My favorite online courses are at Lynda.com, and there are several other excellent websites as well.
While you can learn a lot from these courses, even the best videos won't be able to answer your specific questions or help you troubleshoot any issues that arise. When that happens, you can always search Google for an answer, but this can be a frustrating experience.
Photoshop Tutorial Books
Many people prefer a paper textbook or e-book to guide them through their education. Luckily, there are still plenty of books on the subject. The best print resource is the Adobe Classroom in a Book series. It's the official Adobe publication and a new one comes out frequently to stay up to date with the current version of the software. The books are easy to read and effectively guide you through a step by step process: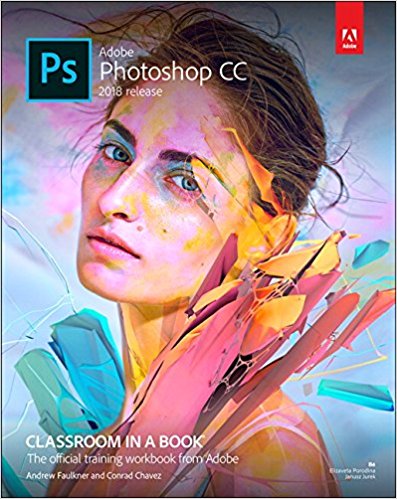 Another excellent and highly-regarded book is: How Do I Do That in Photoshop? by Scott Kelby. When purchasing a book, make sure it has been recently updated. Many third-party instruction books haven't been updated for a few years or even a full decade, practically a century in computer time.
Books provide thorough, detailed reference guides to learn Photoshop but they are not the fastest way to learn the software. Be prepared to spend a lot of time going through hundreds of pages of dense material before becoming proficient. And books carry similar problems to videos: they won't answer your questions when you get stuck, or help you fix every error.
Conclusion
While there are many resources out there including meetups, videos and books, nothing beats the attention and hands-on expertise of professional Photoshop training classes. But, like most creative endeavors, it's about finding what fits you. Happy creating!