The need for web developers and designers has been on an upward trajectory for several years. According to the United States Bureau of Labor Statistics (BLS), web development careers, as a whole, are expected to increase by 13% through 2028, a much faster rate than average.
There's also a lot of money to be made in this field, especially when you have a broad skill set from an internship, work experience, or completing web design classes, web development classes, or certification programs. In 2018, the median pay for a web developer was just over $69,000 a year, or about $33 per hour, according to the BLS. And with the right experiences and skillset, web designers and developers can make much more than that.
If you're creative, artistic, love working with computers, and enjoy creating and improving websites, then a career in web design is right up your alley. Designing and developing websites can be incredibly rewarding because you'll improve the end experience for each visitor and also help your clients grow. Because the web is growing day by day and becoming a more significant part of everyone's lives, the need for web designers shows no signs of slowing down anytime soon.
But what do you need to start your career? Is formal education required? How do you build a successful business in web design? This article has all the answers you need to get a jump start on your career in web design.
What Does a Web Designer Do?
The focus of a web designer is to enhance a user's experience with a website. Web designers are sometimes confused with web developers because their duties somewhat overlap.
However, a developer works mostly with tasks for the back end of a website, like coding and optimizing databases, while a web designer primarily works with the front end of a website. The front end involves everything users see, like the layout and graphics. It's possible to be good at both web design and web development, but people usually gravitate toward the specialty that interests them most.
Still, web designers need to understand coding, so their designs work seamlessly with everything else on the website. From the way users navigate a site to how images appear on pages is all part of the work of a web designer. Web designers should also understand basic marketing and communication principles so that the websites achieves its goals.
How to Become a Web Designer
There are several avenues you can take that will get you closer to becoming a web designer, whether you want to work for yourself or join a company. In most cases, you'll need a combination of education, training, and skills to prove your expertise.
Education
Although many employers look for web designers who have a formal education from a college or university, a degree isn't a necessity if you decide to be a self-employed web designer with your own clients. Still, an associate or bachelor's degree in web development, graphic design, UX design or a similar field can give you an excellent foundation of knowledge for this career.
If you decide to go the formal education route, it's best to look for programs with a broad range of courses in both web development, web design, and graphic design to give you a well-rounded understanding of the work.
Classes and Certifications
Some web developers and designers choose to skip a formal education and, instead, focus on obtaining certifications in areas they want to learn more about. This option is suitable for people who might want to jump into the career more quickly or start their web design business, or for those who already have a decent amount of training and just want to learn some new skills.
If you're unsure of colleges or universities in your area that offer web development programs, you can always conduct a quick Google search. Something like "web design classes" or "web development classes" should do the trick.
Taking a class focused solely on one aspect of web development or design, like WordPress training or Adobe Dreamweaver training, can boost your skills and help you offer additional services to clients.
Skills
Becoming a web designer requires several skills, including creativity, problem-solving, time management, organizational, and technical skills. You'll also need excellent customer service skills to interact with other team members and your clients.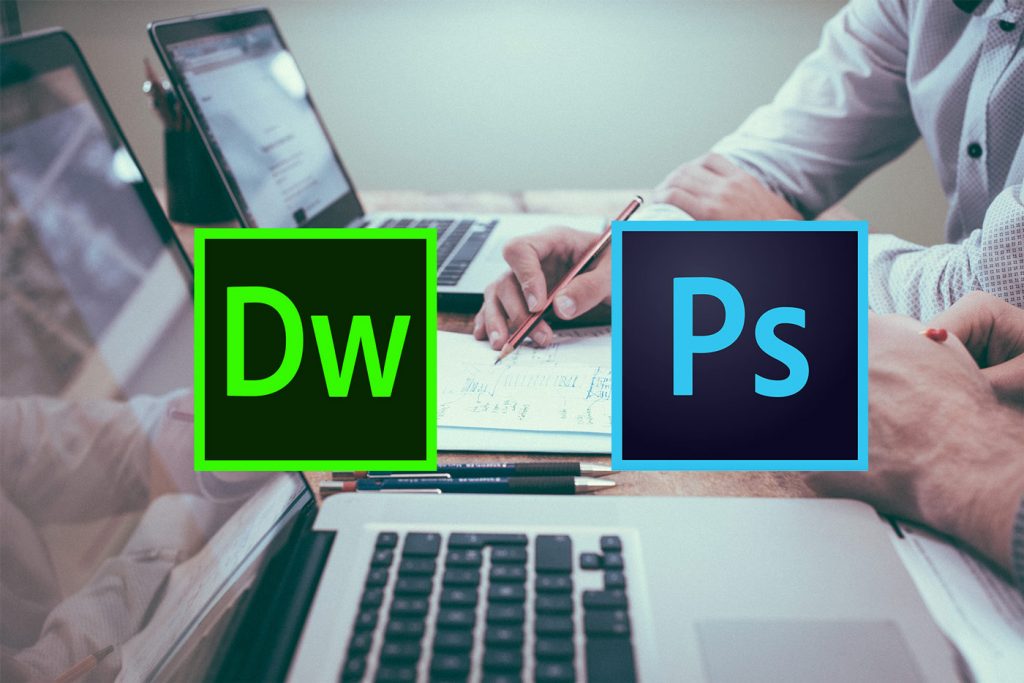 In addition to these necessary skills, you should also have expertise in specific aspects of web design and development, such as coding with HTML and CSS, working with graphics programs like Adobe Photoshop and Adobe Illustrator, and an understanding of optimizing UX, or the user experience. You should also have a basic understanding of Javascript, but don't have to be an expert.
If you plan to work for yourself, you'll also benefit from learning some marketing skills, such as optimizing a website for SEO, email marketing, and social media marketing, to increase your client base. Video is also becoming an increasingly important part of the web, so you may want to learn the basics of video production, editing and marketing. In fact, YouTube is the second largest search engine in the world.
What Do I Need to Get Started?
Fortunately, starting your career as a web designer doesn't require a significant investment. If you have a reliable computer to work with, you already have your highest cost out of the way. However, if your computer is slow or outdated, you might want to consider investing in something newer, although it doesn't need to be the latest, fanciest model.
You'll also need a text editor for coding websites and style sheets. Your computer may already have a free text editor such as Notepad or TextEdit, but you will want a more professional tool such as Sublime Text, Notepad++, Brackets or TextWrangler. Adobe Dreamweaver can also function as a text editor, and has many other professional features to create professional websites.
You will need a graphic design tool, such as Adobe Photoshop or Adobe Illustrator. Adobe offers affordable options for its software for business owners and students if either of those applies to you, and monthly plans make it easy to find a subscription that fits within your budget. Outside of the Adobe world, you can also consider Sketch and GIMP.
Getting Clients as a Web Designer
More and more web designers are choosing to carve their own paths by building a business and working for themselves. This career pathway has incredible benefits for you, including flexible scheduling, pay rates determined by you, and the ability to choose who you want to work with.
But first, you need some clients! These steps can help you do that:
1. Get a Business Website
Your website has two vital purposes for your business:
To be a hub for your business where potential clients can learn more about your services and get in touch with you, and
To display your work, just like you would a print portfolio if you were a model or sketch artist and
To give you professional credibility as a web designer.
In fact, your website is a portfolio piece in itself because you can showcase your skills through its graphics, layout, and UX. If you plan to focus your services on helping clients use a specific website building platform, like Squarespace or WordPress, you can build your website there, too, to drive home your expertise. You can also build a website from scratch using a professional tool such as Adobe Dreamweaver.
Your website should include sections about your services, pricing, contact information, and social accounts. Be sure also to display any certifications and testimonials you might have. You should consider starting a blog for your site, too, which can help attract leads for your business through search engine optimization (SEO). Also, create a Google Business profile and make sure you add a logo, images and basic information so you can start showing up in search engine results. And once you start getting your first clients, ask them to post reviews.
2. Build a Strong Portfolio
Although your website is probably your most crucial portfolio piece, most clients will still want to see a few additional pieces to prove that you know what you're doing before they hire you.
You can include your client work, school projects or personal projects in your portfoloio. You can also volunteer for friends, family, small businesses, and non-profits until you get a few worthy portfolio pieces under your belt. As you gain more experience with clients, you can add to your portfolio with your best work.
It's helpful to include a portfolio page right on your website to conveniently lead prospects to it or to let your website visitors see what you can do before they contact you. A strong portfolio is important! Potential clients are unlikely to hire you if your portfolio doesn't impress them from the start.
3. Prospect
It takes time and an excellent marketing strategy to generate leads through a website, so until your site starts doing some of the work for you, you'll need to prospect to find customers. One of the most common ways for web designers to do this is through cold pitching, or reaching out to individuals or businesses you want to work with to pitch your services.
The cold pitching process takes time and a lot of research, but it can also be a successful technique to build your client database. Search for businesses who you think could use a website revamp or find business owners to connect with on LinkedIn.
4. Network
Networking is a necessary tool for just about any business owner. Web designers can especially benefit from networking with bloggers, web developers, content marketers, owners of marketing agencies, and anyone else who has a hand in optimizing websites. If a professional in your network has a client in need of a web designer, you might become a go-to referral!
Be sure to print out business cards and hand them out to people you meet. Join your local chamber of commerce and actively seek out Meetups and other professional groups in your areas of interest. Potential clients are everywhere!
LinkedIn, again, is an excellent place to network, but you can also connect with other professionals on Reddit, in Facebook groups, or even in-person at conferences or training classes.
5. Find a Mentor
One of the fastest ways to kick-start your career is to find a mentor who has already achieved success, and is willing to show you the ropes. This can quickly accelerate your learning curve and help you avoid common pitfalls that all people face in their careers. A good mentor is someone who has a good overall understanding of the field, and also knows the details that go into building a successful career. It can be hard to find someone who's willing to take you under their wing, but keep at it. A mentor can be a most valuable resource as you grow and progress.
Conclusion
A career in web design is perfect for creative individuals who have an eye for optimizing website user experiences. Coursework, training programs, and certifications can all help you make strides toward boosting your skills and building your resumé. Further your career by building your own website, creating an eye-catching portfolio, and prospecting and networking to gain clients.
Resources on this Website
Are you ready to get started as a web designer? Contact the Web Guru today to learn more about our Adobe training classes and other web design and development classes. The Web Guru offers a full suite of training classes that will jump-start your web design career. Click below for more options: