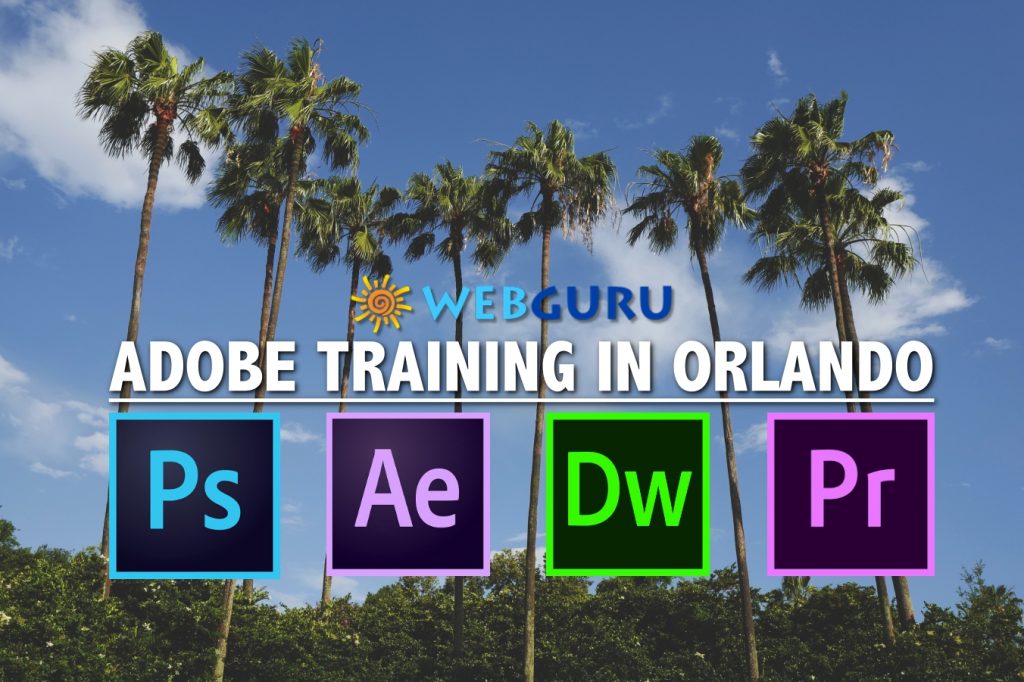 Adobe is the leading multimedia and creativity software that is used by millions of graphic designers, video professionals and web developers. Subscribing to Adobe can give you access to software such as Photoshop, Premiere Pro, After Effects and Dreamweaver. These are must-have tools for not only creative professionals, but for businesses who want to create marketing materials and other media.
The Web Guru now offers specialized Adobe Training services that are designed to optimize your Adobe skill set making your work flow as efficient as possible. Based in Orlando, the Web Guru's Adobe Trainin g Classes will teach you to use all of Adobe's features allowing you to design websites from scratch, edit video, optimize graphic assets for the web and any digital marketing campaigns.
If you are a creative or business professional in Orlando, it is a good idea to learn how to use these tools to maximize your projects in the digital age. But how can one learn the skills necessary to use Adobe software to their advantage?
Navin Kulshreshtha, also known as Web Guru, has been teaching video and web training classes for the past 8 years, and he also has over 12 years of experience in video production and web design.
Navin is an Adobe Certified Instructor (ACI) and Adobe Certified Expert (ACE). Some fo the companies he has trained in Orlando and Florida are: NASA TV, NBC/Universal, Golf Network, WKMG News 6, and Dr. Phillips Charities. Navin also has an active YouTube channel where he produces training and instructional videos.
The training classes offered by the Web Guru are intensive, hands-on classes that will get you up to speed quickly. He offers classes for Adobe software such as:
Whether you are a business professional who wants to expand their knowledge of Adobe products or an experienced multimedia specialist who wants to take their skills to the next level, the Web Guru's Adobe Training shows you how to maximize your Adobe experience.
If you are interested in Adobe Training, contact the Web Guru today to get started on your adventure!