In this video, the Web Guru (https://webguru.info) will show you how to import layered Adobe Illustrator files directly into Adobe After Effects. For this to work properly, you must make sure your artwork is organized onto multiple layers inside of Illustrator before you import to After Effects. Watch the video for full details.
Adobe Illustrator is one of the leading programs in the industry for creating vector graphics, and Adobe After Effects is one of the leading programs to animate and add movement to those graphics. In this tutorial, I will show you the best way to import layered Illustrator files into After Effects.
Creating Layered Illustrator File
First of all, you will need to have an Illustrator file created already and organized into layers. This is key, because if your Illustrator file is not organized properly then it will not import correctly into After Effects.
The following is a logo with a compass shape and some text created in Illustrator.

I would like to animate each word individually, plus the various parts of the compass in an interesting way in After Effects. But there's a problem. When I look in the Layers panel in Illustrator all my artwork is organized into a single layer.
In order to get the control that I need in After Effects, I need to organize my Illustrator file onto multiple layers. This will require some skills in Illustrator.
Every situation is unique and how many layers you create in your project is up to you. How much control do you need in After Effects? How many different elements of your graphic will you animate individually in After Effects? Once you have determined that, you should place each graphical element on its own layer to give you the control that you need.
To create a new layer in Illustrator, click on the Create New Layer button at the bottom of the Layers panel.
Then move the appropriate artwork onto that layer. This can be done by:
Dragging and dropping in the Layers panel
Selecting the artwork in the artboard with the Selection tool (Black arrow) or Direct Selection tool (White arrow) and choosing Edit > Cut. Then choose another layer in the Layers panel and choose Edit > Paste in Place. Now you have moved the artwork from one layer to another.
Keep repeating the above process until you have all the artwork you need onto separate layers. You can also rename the layers to give them meaningful names if you want. To rename, simply double click the layer name inside the Layers panel.
After doing some work, the sample file now contains 4 layers:
Be sure to save your Illustrator file.
Importing into After Effects
Now you can start After Effects. Choose File > Import > File or just double click an empty space in the Project panel. Navigate to the Illustrator file and single click on it to select it. Avoid double clicking as this may import the file with incorrect settings.
In the Options section Import as a Composition and also check the box that says Create Composition. Then click Open or OK.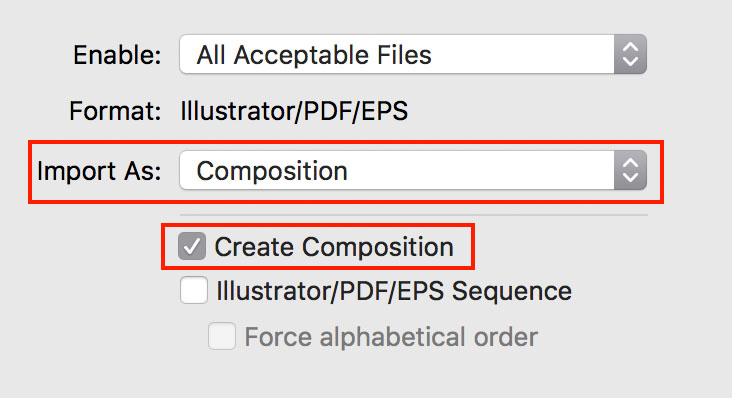 Now the Illustrator file will be imported into After Effects. In the Project panel you will see a new Composition plus a folder with all the individual layers.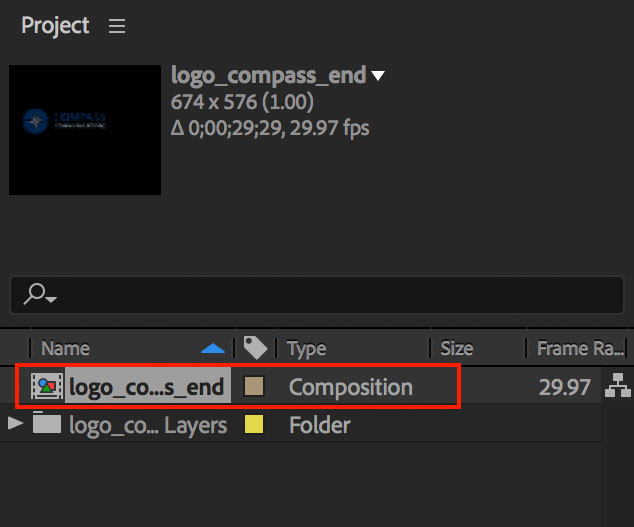 Double click the Composition to open it and you should see all of your layers ready to be animated in the Timeline!
Summary
Most of the work that we did was actually in Adobe Illustrator. Once the file was properly organized it was quite simple to import it into After Effects. You just have to make sure to choose the correct settings. Here is a quick summary:
Organize the Illustrator file into multiple layers. The Create New Layer button is at the bottom of the Layers panel.
Import the file into After Effects as a Composition and be sure Create New Composition is checked.
That's it. Your layered graphic should now be ready to bring to life in After Effects!