Nothing can damage the quality of a video more than a lot of background noise. I am going to show you quick and easy ways to remove or reduce background noise so that your videos will be top quality. 
1. Audio Workspace
 Switch to your audio workspace by choosing Window > Workspace > Audio from the top menu.
2. Essential Sound Panel – Reduce Noise
Be sure your Essential Sound panel is visible. You should see it on the right side. This panel contains all the tools, and features you need to adjust and improve your sound quality. If you do not see the panel, choose  Window > Essential Sound from the top menu.
Select your clip in the timeline

In the

Essential Sound panel, choose Dialogue as  the Audio Type. The options are:

Dialogue, Music, SFX, or Ambience).
Click on

Repair

, then choose

Reduce Noise

.

Notice the default is in the middle. Play the video and listen for improvement.
If it needs improvement:
Bring the

slider

all the way to the left (0).

Then slowly slide it to the right, while playing the video, until the quality sounds the best.
3. Essential Sound Panel – Enhance Speech
If you have done all you can with the slider, but the quality still needs improvement:
Scroll to the

Clarity

section, choose

Enhance Speech

.
Choose either

Female

or

Male. Oftentimes, Male sounds better even for female voices.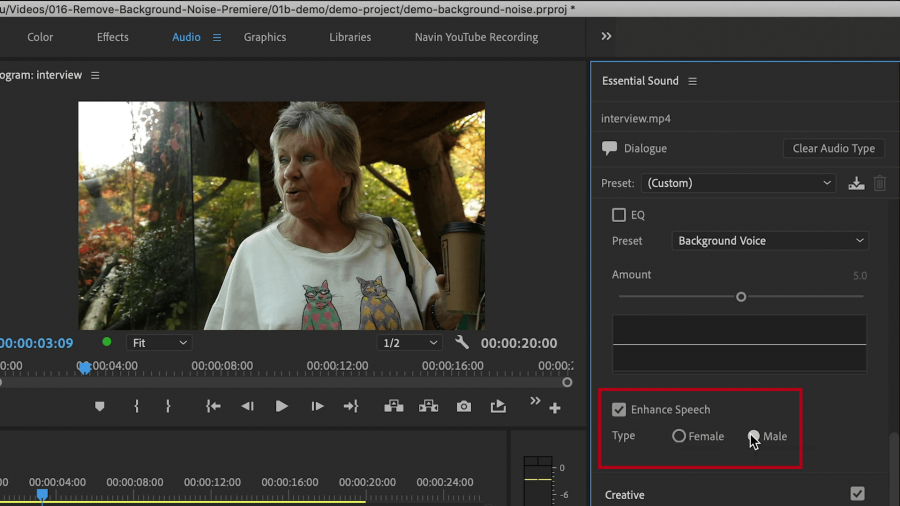 Now your sound quality should be greatly improved.